Staff
Our dedicated staff members are here to provide support, compassion, and information to help you through your journey of grief and the celebration of your loved one's life.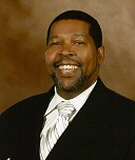 Charles Eugene Thrash
Owner and Funeral Director
Thrash Funeral Chapel is family owned and operated by Charles Eugene Thrash. Charles has over 25 years in the military, education and business environments. Charles holds degrees from the University of Illinios, Central Michigan and Certification from the Dallas Funeral Institute. Charles is a member of Omega Psi Phi Fraternity, Prince Hall Masons, Nobles of the Mystic Shrine, the 82nd Airborne Division Association and the VFW.

As a second generation of Funeral Directors, Mr. Charles Eugene Thrash has continued a legacy that will continue to touch the lives of others for many years.